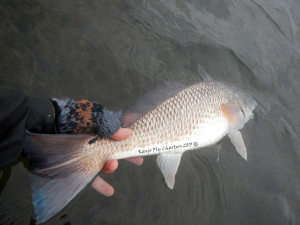 On the island town of Port Aransas in South Texas, winter-time is frowned upon by the locals except for a few reasons. We prefer board shorts and flip flops but hey, who doesn't?
Despite the blistering cold north winds that prevail this time of year there are a several things that continue to give me the warm and fuzzies… If you suffer from chronic cabin fever like me, now is a great time to call up your favorite guide and go nail some blue-tailed redfish!
For one, the redfish this time of year are schooled up thick and I can assure you they have put on their feed bags! Recent examination of the stomach contents of a few redfish have revealed hefty amounts of thumbnail size crabs of various types as well as lady-finger shrimp… While the cast and retrieve are typically run at a much slower pace, the bites from these redfish are very consistent and extremely predictable. Finding these schooled up fish can be tricky and that's why hiring your favorite fly guide can mean the difference between searching miles and miles of empty flats versus working the same mini flat all day putting numerous redfish in the boat.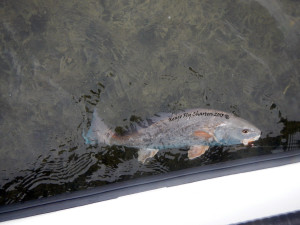 Secondly, the "summer tourista" boat traffic is long gone, and only a fraction of the boaters remain. While most guys have stowed their fishin gear in exchange for camo underwear and shotguns, that (duck) season closes Jan25 and then, only the brave will thrive. This translates into large groups of redfish that are no longer spooked by the sound of some yahoo running his shallow water skiff across the flat only 50yds from you as if you weren't there. And overcast skies and moderate winds provide camouflage for us. It makes it harder for us to see the fish but the better point is that it makes it harder for the fish to see us!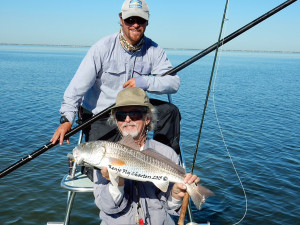 Sight casting opportunities can feel non-existent in the winter due to heavily overcast skies, and trying to coordinate your schedule to nail a clear blue bird day will make everyone loose their hair. Nonetheless, we do get those days and if that is what you want, put down a deposit to get on the books and your guide will certainly call you the day before all goes bluebird! Being ready to strike on short notice can make for a glorious day of sight casting in skinny water during the winter as the sunshine will draw boat loads of fish into the shallows to warm up.
Even in cloudy weather though, these redfish stay hungry and provide exciting action on the water with no-one in sight. Fortunately there are so many different places to launch that it is easy to avoid the worst of the strong winds and rough seas. This means we can get to these hotspots without having to cross the open bays where things are much more dicey.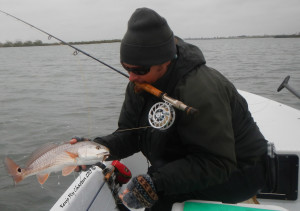 Staying dry is the secret to staying warm. By putting some thought and maybe a little cash into the clothes you wear a cold day on the water will be far from miserable. STAY AWAY from cotton fabrics!!! Synthetic materials are the way to go this time of year… not only are they lightweight but it will help keep you dry and comfortable. Cotton will absorb moisture and will have you chilled like a peel-n-eat shrimp within an hour. Personally I wear a double layer of under armor leggings and tops, and then at least one layer of fleece (top and bottom)… Next to go on is an essential wind jacket followed by my favorite Patagonia outer shell (jacket and pants). This shell will keep the wind and rain from reaching the core layers… The synthetic materials will help evaporate any sweat away from your body too. Multiple layers of wool socks, each layer being thicker than the one before is critical. Your hands and feet will get the brunt of the cold no doubt and to combat the stinging pain in the hands I wear Alpaca fingerless gloves. I chose alpaca wool because it is well known for being warmer than regular wool especially when wet. I've used sheep's wool for years but once I experienced the true benefits of alpaca it has become a necessity that is worth every penny.
So, if you haven't already called your fly guide and booked your next winter rendezvous with a redfish you might also want to know that winter time also means excellent chances at Gator Trout! The speckled trout are harder to locate and getting them to eat can be tough but don't be surprised when you hook into another lousy redfish only to find out it is a Big 'Ole TROUT!!! For all these reasons… this is why I love winter-time fly fishing! Keep your hooks sharp and your retrieves slow. Call Captain Kenjo! It's a great bite this time of year!